Future Proof Festival: An Innovative, Inspiring Industry Event
The Future Proof Festival was an exciting, jam-packed four days of idea-sharing, insight-dropping, network-building, innovation-inspiring revelry. The AssetBook team was on the ground exchanging ideas with like-minded individuals about the best practices that are shaping the future of the financial services and technology industry. 
The team was also making noise about our newest product release! Valian, a first of its kind client engagement app, enhances advisor-client relationships by connecting to our flagship platform – Pulse. Although we were days away from our official release date, we spoke with hundreds of advisors who were looking to modernize the way they engaged with their clients with an easy-to-use, intuitive platform. After all, Valian is the industry's first advisor-led engagement app … so we had to make a splash and build excitement to solve the old, disruptive ways of communicating with the people who matter most – your clients.
During the course of the event, we heard panel discussions that covered social, cultural, economic and financial regulations and implications for the future of this industry and tech. During those four days, AssetBook's CEO, Marwa Zakharia, took the stage twice to dive into the future of work and compliance. 
Marwa led the discussion of "The Future of Work" with Kate Healy, Managing Director of the CFP, and Kelsey Mowrey, President of Motley Fool Asset Management. They focused on "Quiet Quitting" and how leaders can identify when their team is not engaged. By focusing on the team first, employers are less likely to lose employees to another career jump.
The goal is to retain good people who align with the company's vision for success, which means employers have to continually check-in with their employees. What worked years ago may not work now when it comes to employee retention. Business owners are now operating in a world where the whole employee experience is prioritized and digitized (which can also be the determining factor when making a career shift). 
Leadership at AssetBook focuses on getting to know the team by understanding their motivating factors and how they thrive in a work environment. Leaders listen to their employees' needs and make adjustments for the entire practice in order to grow and engage successfully. 
On day three, Marwa joined "The New Bright Future of Compliance" panel with Mac Bartine, CEO of Smartria, William Sweet, CFO of Ritholtz Wealth Management, Matt Bowers, General Counsel of Rayliant Global Advisors and Charles Reiling III, President and CEO of CoastalOne. They highlighted how recent marketing rule changes will impact firms' usage of testimonials and endorsements within social media posts, especially since the deadline is just around the corner (November 4th, 2022). 
Marwa stressed the importance of relying on your team of experts and tech companies to stay on top of these regulations so that you (the advisor or business owner) don't have to. As a technology partner, AssetBook is helping firms like yours focus on the bridge between tech and business supervision.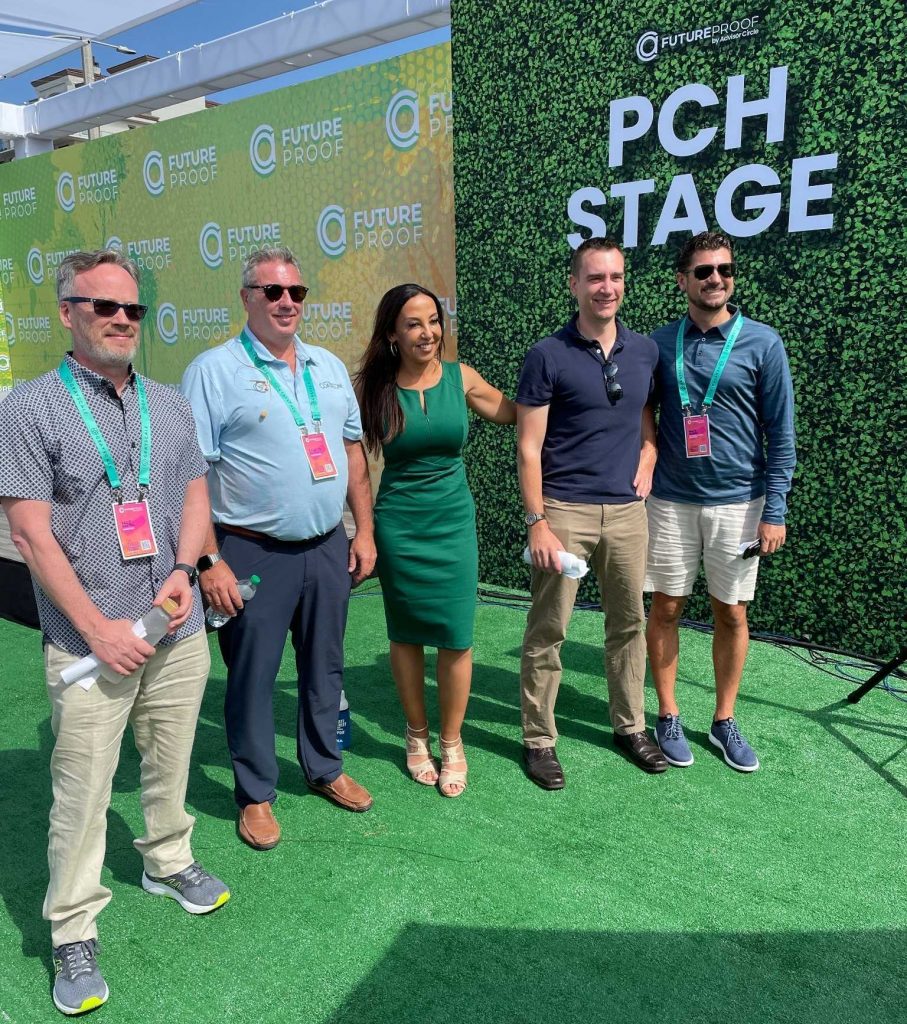 Other key takeaways that stood out to the team …
From "More than an Athlete: Preparing For Life During & After the Game," led by John Gittelsohn, Real Estate and Investing Reporter of Bloomberg News and Joe McLean, Founder and CEO of Intersect Capital, featuring Isaiah Thomas, NBA player, and Dexter Fowler, MLB player:
As Joe stated, "If you want to be a great advisor, you have to be willing to get fired." You have to be honest and direct with your clients. You can't be afraid to say no if that means securing their future. As an advisor, you need to keep clients accountable to their goals and not let them become short-sighted for short-term gratification. I've always believed that being honest and direct – even when the feedback may be tough to hear – is the way to go, both in business and in life.  Only telling people what they want to hear and avoiding tough subjects doesn't build authenticity or trust. After all, investing in the future is a long term play.
"The best thing you can do is put them (your family) in a position to succeed." – Dexter. This is a powerful statement because it keeps you accountable toward your goals and puts your actions into perspective. It's easy to lose sight of what matters to us most when social media is putting pressure on us to buy into the latest trends. What we need is a constant reminder from ourselves or those in our corner, who have our best interests in mind, to stay the course no matter what.  What a great reminder for me as AssetBook sets out to help advisors, as I run my company, and even as I work towards m own personal goals. I always want to keep top of mind why we set those goals, the pain points that brought us there and how we plan to execute. 
From "The Future of Tech: Data, Automation & Integration," led by Matt Barthel, Executive Editor of the Dow Jones Wealth and Asset Management Group, Oleg Tishevich, CEO of Invent.us, and Jud Mackrill, Co-Founder of Milemarker. 
"If you aren't taking a proactive approach to changing your data, you're making more work for yourself." – Jud Mackrill.  Learning a new product or technology can seem daunting – but when it saves you time or brings in new business, it will be more than worth the investment. 
As David DeVoe mentioned in his panel on "The Future of M&A in the Advisory World," even if you don't plan to sell soon, run your company like you plan to. It's important for business owners to ensure they have the right tools and tech in place to run a seamless operation without losing the human element of service. No technology can replace open communication with your customers. At AssetBook, we rely on our customers to tell us what is working, what can be improved, and how we can constantly raise the bar for our products. We are better because of their feedback.
Final Thought: Meet People Where They Are
Whether that's advisors, clients or employees. Show value by listening to what they have to say and make those changes to build mutual trust. From there, lean on the experts you've surrounded yourself with to make sound decisions. That is the first step to creating a plan for your business to thrive.