The Future of CX is Here: Introducing Valian By AssetBook
Tired of client-facing tools that over-promised and under-delivered?
Us too. So we took everything our clients loved about our sleek and performance-minded portfolio and reporting tech, and developed the industry's most functional client engagement app, Valian. It's an experience like no other, we promise you that.
The Next Chapter in Portfolio Management
AssetBook makes the financial industry's most robust portfolio monitoring and reporting system. Save time, deliver precise portfolio reporting, and demonstrate your value to clients.
4x
Employee Tenure vs.
Industry Average
698%
Average Client Growth
(5 Year Period)
Win More Business and Increase Your AUM
Transfer files, upload documents, and deliver portfolio performance and tax consideration information to clients within seconds through our easy to use client portals. Tell your story and validate your value to clients through transparency.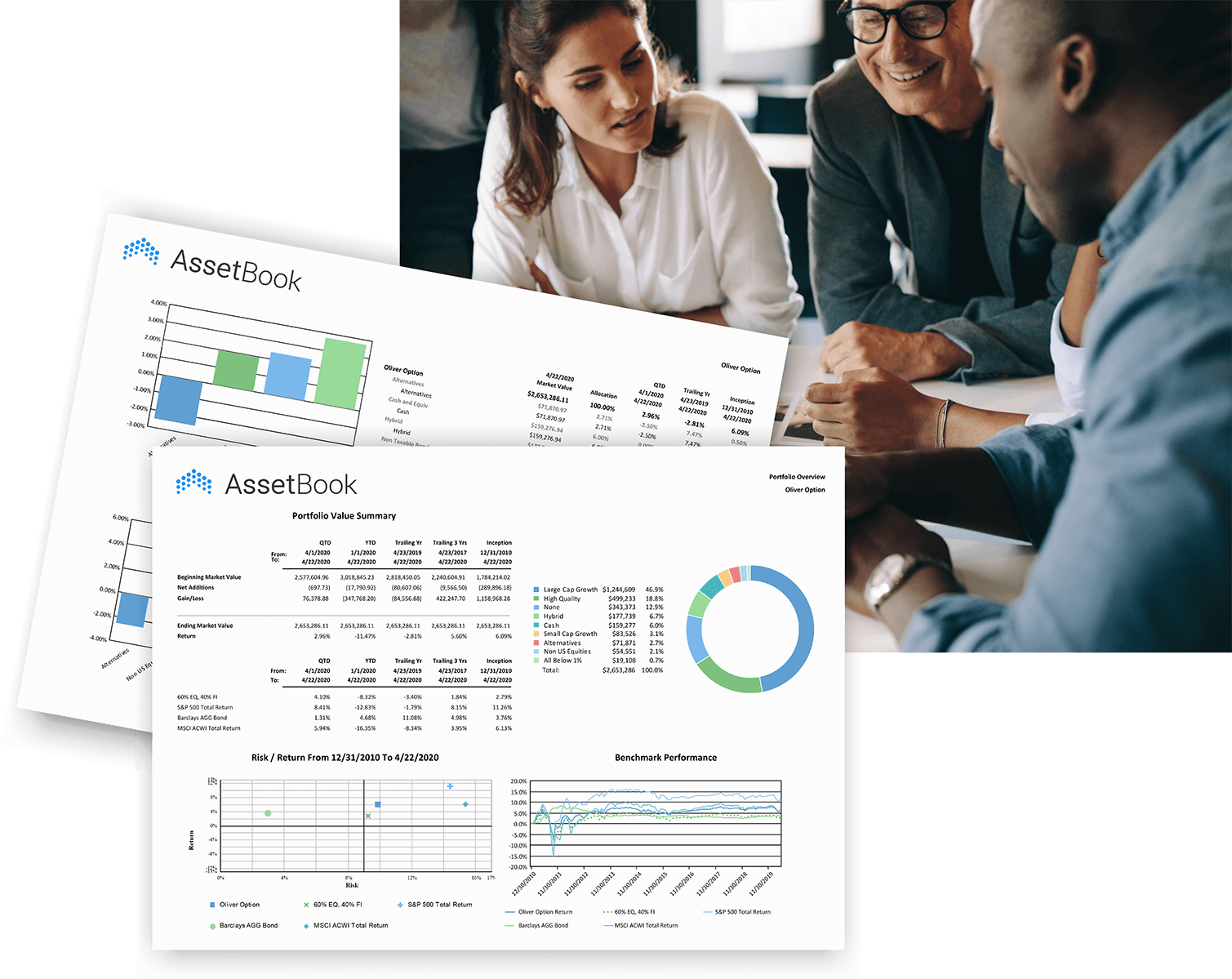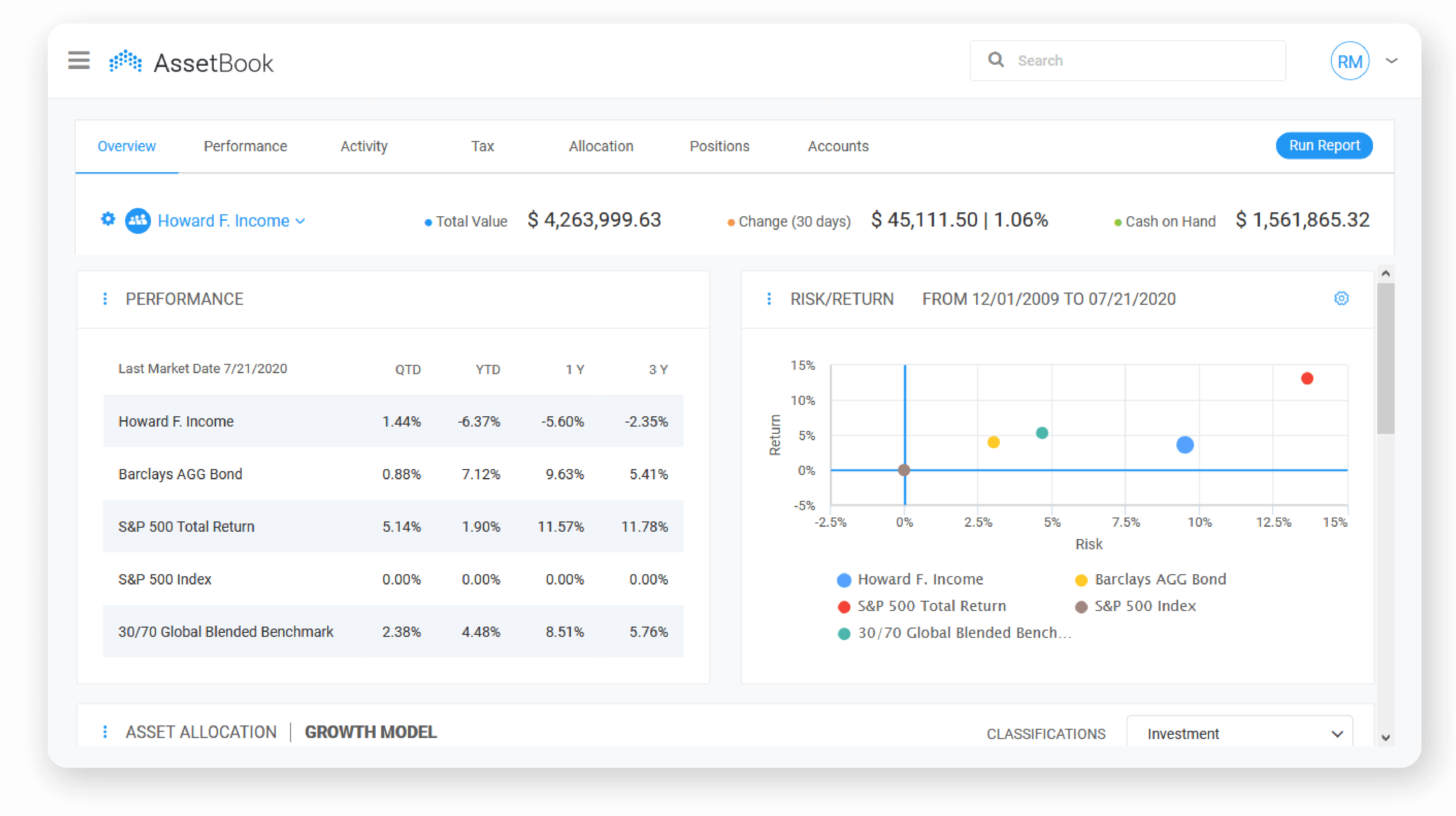 Performance Reporting
Pulse has evolved performance reporting into a customizable and interactive digital experience for your clients. Pulse empowers advisors to promote their unique management style as well as their brand with colorful charts, graphs and meaningful portfolio statistics.
Firm-Level Dashboard
Pulse includes a dynamic and meaningful firm-level dashboard that displays important metrics about your firm. This attractive dashboard breaks down your AUM growth into key values so you can understand how it's growing and where that growth is coming from. You can also see your asset allocation at a global level and view your top investment holdings.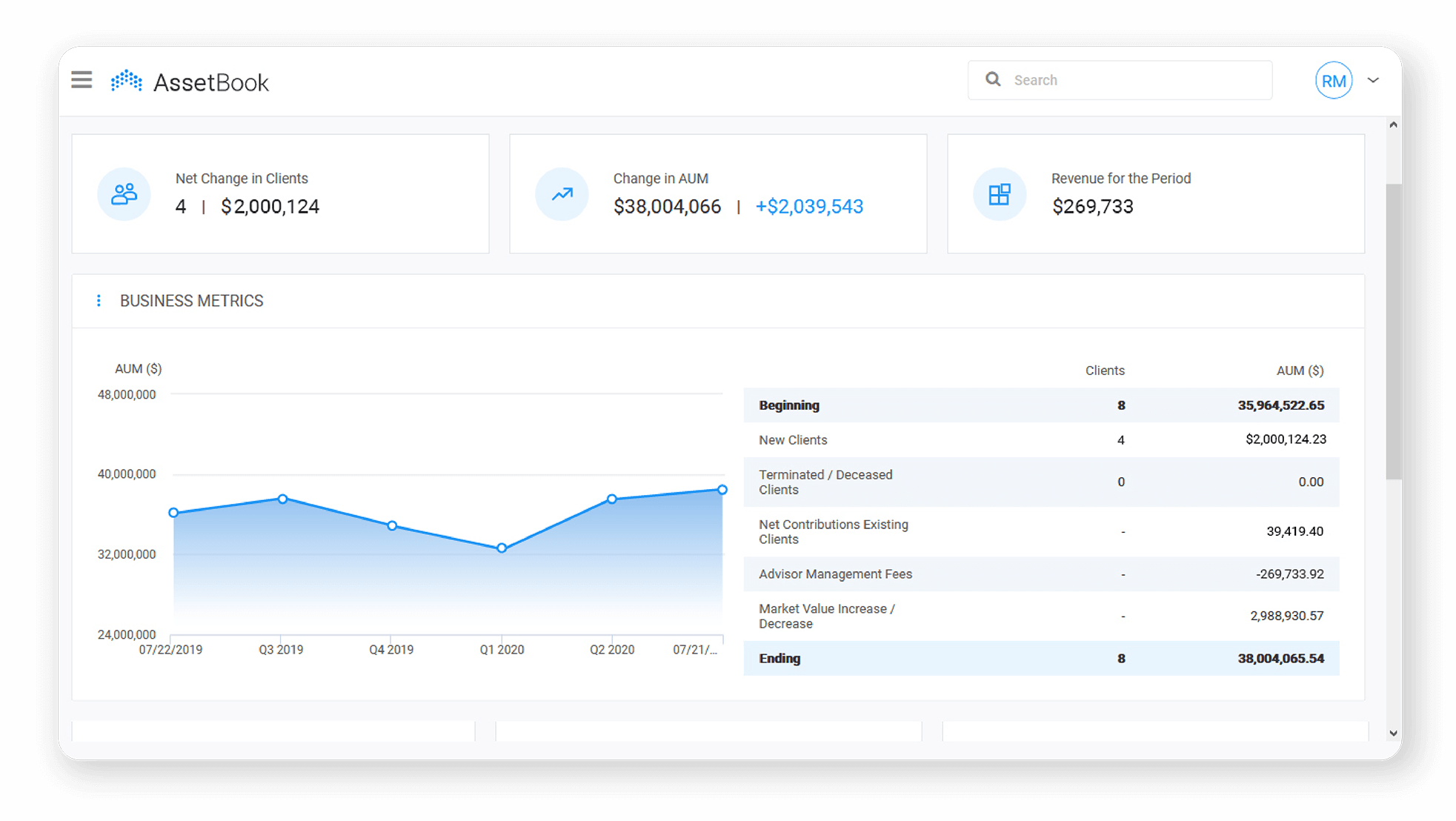 See for yourself why advisors and their clients love AssetBook.
Seamless integrations that save you time.
CRM, trading and rebalancing, financial planning, and aggregation open APIs make it easy to seamlessly integrate AssetBook with your other software.
"What you've done here with your new Pulse platform is perfect for us! Pulse is exactly what we've been waiting for."
"The new Pulse system is the most innovative and well-thought out portfolio management system we've ever experienced. It has a clean, crisp look and the Client Dashboard will be a real asset when we are on the phone with clients. AssetBook has dramatically increased both our efficiency and our profitability."
"Pulse is a game changer for our industry! This is amazing! It's easy, clean and fast! I love you AssetBook!"
Read the latest financial industry news and AssetBook updates.
No matter the size of your firm, implementing the right reporting tools as part of a comprehensive portfolio management platform …

Nearly every aspect of your clients' lives is touched by technology—how they order food, pay their bills, work, enjoy entertainment, …

As a seasoned financial advisor who has transitioned from working on the frontlines to the behind-the-scenes world of portfolio management …